SONOTEC launches new generation of its high accuracy clamp-on flow meter SONOFLOW CO.55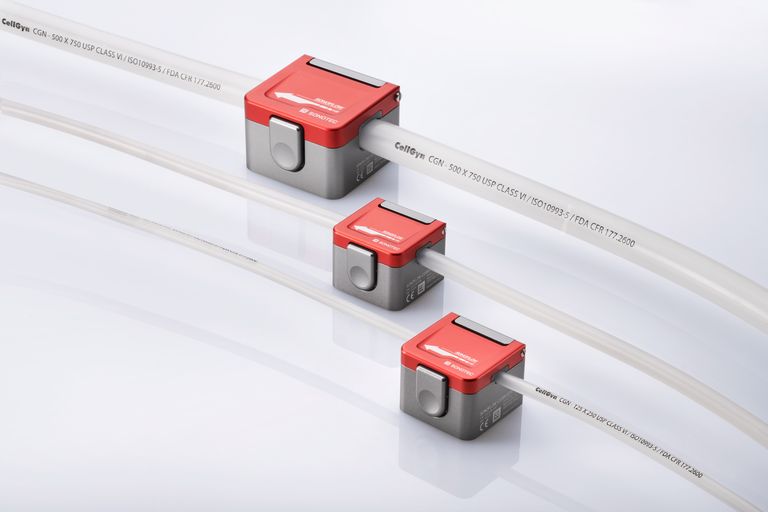 Ultrasonic specialist SONOTEC enhanced its SONOFLOW® CO.55 non-contact flow meter to increase the efficiency throughout PAT-related upstream and downstream processes in biotechnology applications. The new SONOFLOW CO.55 V3.0 sensor combines outstanding measurement accuracy and highest clamp-to-clamp repeatability.
The new highly accurate SONOFLOW CO.55 V3.0 ultrasonic clamp-on sensor offers a measurement accuracy of up to 1% and hardly any drift at zero flow. With its next generation flow meter, SONOTEC has also succeeded in improving the clamp-to-clamp repeatability by adjusting the measurement channel architecture.
"During the development of the new sensor generation we focused on major requirements in the biotech industry making sure to implement the right product features for this specific market", says Melanie Schmidt, Business Unit Director Non-Invasive Fluid Monitoring at SONOTEC. "By offering highest accuracy also in the low flow rates combined with Ethernet integration, we address process development applications gathering real-time data for process intensification purposes. Particularly with its excellent clamp-to-clamp repeatability, SONOFLOW CO.55 V3.0 sets a new standard on the market. Replacing single-use tubing sets has almost no effect on the measurement accuracy, which is crucial for all process steps to achieve a consistently high product quality."
Highest accuracy and real-time data for PAT-related up and down scaling
SONOFLOW CO.55 non-contact flow meters are designed to increase efficiency and reproducibility throughout upstream and downstream processes in biotech applications. As a critical process parameter (CPP) the flow volume of the medium can affect critical quality attributes (CQAs), which are defined to ensure the desired product quality. Thus, it is essential to monitor and validate real-time flow data throughout the entire manufacturing process. With customized calibration, the ultrasonic sensors from SONOTEC achieve up to 1% accuracy. Hence, customers can substantially improve process stability considering their quality by design (QbD) strategy in process analytical technology (PAT) applications. The non-contact flow meters are ideally suited for small-scale low flow applications in laboratories as well as complex GMP production processes.
The clamp-on technology offers the possibility to measure and monitor flow rates on flexible silicone tubing from the outside, eliminating any risk of contamination. The reusable non-invasive sensors can be implemented in both - single-use and hybrid environments of the bioprocessing industry, supporting corporate sustainability policies. Starting from media preparation via feeding and acid / base delivery throughout all process steps to the final fluid dispensing during fill and finish, the flow meters can be easily applied to monitor flow rates and control volumes reliably.
Advanced technology and ease of use
Based on a unique sensor platform, the compact flow meters are available in multiple sensor sizes. It is possible to monitor and control up to twelve SONOFLOW CO.55 sensors via RS485 interface. For SCADA-based process controlling, the flow meters can be easily integrated into the existing PLC network architecture via an EtherNet/IP Gateway. Furthermore, SONOTEC offers a software to conveniently configure and calibrate the sensor on site without any logistics effort.
SONOTEC presents its new SONOFLOW CO.55 V3.0 at the INTERPHEX from 24th to 26th May 2022 in New York, USA. Visitors are invited to discuss their projects at booth 3452 of SONOTEC.